Building Rehabilitation Resource Centre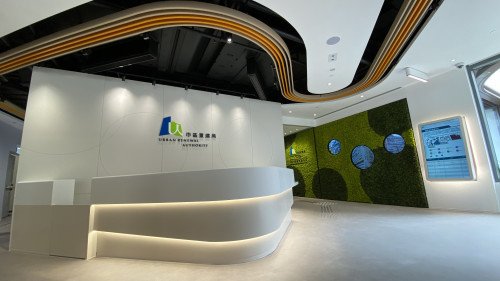 Building Rehabilitation Resource Centre
Building Rehabilitation Resource Centre is a multi-purpose centre providing one-stop building rehabilitation related information and assistance services, including video consultation service, multi-purpose rooms and mediation rooms.
The Centre starts providing the second phase of services from 4 July 2023. It is open to the public for free from Tuesday to Sunday (closed on Monday and public holidays). Please refer to the information of opening hours below.
The Centre will also provide video consultation service during office hours of weekday i.e., from Tuesday to Friday, from 10:00 to 17:30, so that visitors can chat with URA staff immediately for enquiries about building rehabilitation. At the same time, two "Video Consultation Service Rooms" are also established to allow those who intend to apply for various building rehabilitation subsidy schemes to go through relevant application procedures, fill in the application forms and submit documents online during the above-mentioned office hours of weekday.
Address: 201 & 202, 2/F, eResidence, 8 Hok Yuen Street,
Hung Hom, Kowloon
Opening Hours: Tuesday to Friday - 10:00 – 21:00
Saturday & Sunday - 10:00 – 18:00
(Monday & Public Holidays - Closed)
Email: BRRC@mail1.ura.org.hk
Telephone: 2588 3700
FAX: 2588 2566
Venue Booking
1. Guided Tour

The Centre presents interesting exhibits, interactive multimedia facilities. It aims to allow visitors to understand the importance of preventive maintenance.
Tours will be conducted in Cantonese and are free of charge. All tours are by appointment only. The Centre will arrange the tours on a first–come, first-served basis. Please click here for the booking status of guided tours.

Guided tour time:
During opening hours of the Centre; 3 sessions per day; 1 hour per session.
• 11:00 - 12:00
• 14:00 – 15:00
• 16:00 – 17:00
Please click link below to download the application form.
2. Meeting
In view of the keen demand of building owners/owners' organizations for meeting rooms for meetings, the meeting rooms in the centre are currently available for free booking in relation to building rehabilitation and redevelopment. Please click the Online Venue Booking links below to apply or download the application form and notes.
3. Scheme for Community Venue for Mediation
The Urban Renewal Authority ("URA") is supportive of the Government's policy to promote the wider use of mediation to resolve disputes in Hong Kong and extend the use of its mediation rooms at the Rehabilitation Resource Centre ("BRRC") for the Scheme for Community Venue for Mediation introduced by the Working Group on Mediation chaired by the Secretary for Justice and administered by the Joint Mediation Helpline Office ("JMHO").
If the mediation meeting is arranged via the JMHO (where the nature of disputes are related to urban renewal, building maintenance and management, property valuation, building and construction; as well as land and property matters in URA's redevelopment areas and rehabilitation service areas), the Mediation Room is charged at HK$48 per hour (Pro bono mediator may be waived for the room charges). All bookings and use of the Mediation Rooms shall be made through the JMHO. For matters concerning application, please contact the Joint Mediation Helpline Office at 2901 1224 or by email to: email@jointmediationhelpline.org.hk.