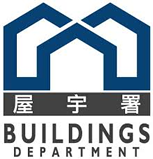 The Buildings Department aims to promote building safety; set and enforce safety, health and environmental standards for private buildings; improve the quality of building development through enforcement of the Buildings Ordinance; and foster a building safety culture with community through public education and publicity.
In new buildings, we work in partnership with the building professionals in the plan approval and construction process and carry out audit checks to ensure compliance with building standards. We provide incentives to promote the construction of environmentally friendly and sustainable buildings. The department carries out audit checks on construction works and site safety and issues occupation permits upon completion of new buildings.
For existing buildings, we take rigorous enforcement action against dangerous and newly erected unauthorised building works, dangerous buildings and slopes, defective drains and signboards. We promote timely maintenance of buildings through the implementation of Mandatory Building Inspection Schemeand Mandatory Window Inspection Scheme. We administer a Building Safety Loan Scheme to help those in need. We also implement the "Minor Works Control System" to enable building owners carry out household minor works under simplified requirements. We aim to improve fire safety measures in buildings and provide advice on the suitability of premises for the issue of licences for specified commercial uses.
We also conduct regular review of our regulations and standards to keep the building control system commensurate with the advancement in technology as well as the practice and needs of the industry and public aspiration, a system in harmony with the society.
If you have any comments or suggestions about the services we provide, please contact us at our telephone hotline 2626 1616 (handled by "1823") or by e-mail to enquiry@bd.gov.hk.

If you wish to obtain further information on building safety, please visit our website www.bd.gov.hkand E-Learning Centre https://elearning.bd.gov.hk/.